6th Grade Ancient Egypt Research Project (Afterlife,
Gods & Goddesses,
Hieroglyphics,
Pharaohs,
Pyramids)
Books/eBooks:
Step 1: Go to York Middle/High Library on Destiny. Step 2: Find "Resource Lists" on the left-hand menu (under WebPath Express). Step 3: Select "Ancient Egypt Research Project"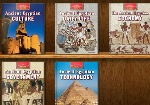 Ancient Civs Egypt
Examining major aspects of each ancient culture, such as its government, its economy, and its religious practices.
WebPath Express
*Research expert approved search engine provided by Follett (Library OPAC).