BOOKS
Use the library books on the cart to find information on your biome / animal species. Remember to use the title page to find the information needed for the citation.
DATABASES
The library databases linked here are good sources to find information on your topic. Enter the library passcode to gain access.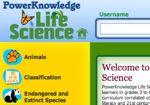 PK Life Science
1. Click on the "Habitats and Ecosystems" topic on the left sidebar, then 2. "Biomes and Habitats" to open the list of biomes.
FOR SPECIFIC ANIMALS TRY:
Glogster
Log into your assigned account to create your online poster.
Project Handouts
Copies of the project handouts and rubric are attached here.