The following resources are good for researching biographies.
Ancient/Medieval Era
Ranging from the dawn of prehistory, through the great ancient empires, to the beginning of the Renaissance, this unique online resource explores history in every corner of the globe.
The Modern Era
Covers a broad range of topics including the evolution of modern Europe; concurrent developments in Asia, Africa, and the Islamic world; the global impact of the Industrial Revolution; and the last 100 years of conflicts and international cooperation.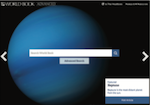 World Book Advanced
High school reference tool that includes encyclopedia, multimedia, e-book, and primary source databases, fully integrated in a single search.
InfoPlease: Biography
Biographies of Presidents, Athletes, Justices, Entertainers, World Leaders, and more people.
Sweet Search - Biographies
SweetSearch Biographies offers profiles and outstanding search results for thousands of famous-or infamous-people from many walks of life, professions and countries, spanning many centuries.