Organization Tips
*Before beginning your research, create a folder titled "Interview Project" to house in your Global folder. If you don't yet have a Global Folder, create that first.
*You will need this folder to hold all of the sources/citations you save.
*NOTE: Even if you print your research, you should still send it to your drive for safe keeping and for access to citations when creating your "Works Cited" page.
Britannica High School
*Britannica does not link to Google Drive effectively. You'll just need to cut and paste your information and citation (see the box with a check mark in it at the upper right) into a Google Doc in your Interview Paper Folder.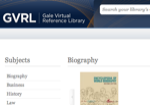 Gale Ebooks
*Scroll down to Nation and World for (Worldmark Encyclopedia of the Nations).
*Scroll down to Choose a Volume and locate the continent/region of your country.
*The Table of Contents will list all countries available.
*If you can't find your country, type it in the search bar which will search for you through all the ebooks and will pull up what you may have missed from this particular ebook.

*This resource works with the Google Drive in the same way as Student Resources in Context.
Citation Creation Resources
ZoteroBib - For citing WEBSITES (not sources from databases)
CITATION GENERATOR - It makes your citations for you.
*NOTE: ONLY use this for WEBSITES. The DATABASES on FISH FOR INFO provide citations for you.
*If you are using a website, simply copy your URL into the bar and a citation will be created.
*Scrolling down will allow you to see other citations you've created and to change the format if necessary.
*You will need to copy and paste this citation into a document and title it as such for later use.
Sample Works Cited Page: MLA8 - Owl at Purdue
This is an example of the final page of your paper, which houses all the sources used.
NOTE:
*Works Cited - Centered at top
*Citations are listed alphabetically
*Double spacing throughout
*"Hanging Indents" are used - 1st line of each citaiton is flush left. All following lines are indented.
Having difficulty indenting?: At the beginning of the line you need to indent, press: Shift/Enter simultaneously and then continue with a tab.