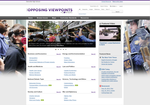 Opposing Viewpoints
Again, search assist will help you when searching.
This database will provide you with multiple perspectives!
Tips
*I encourage you to utilize "Send to Google Drive and keep an organized folder.

In an ADVANCED SEARCH:
and = reduces findings (each word must be in each source provided)
or = increases findings (any of the words can be in any of the sources)

The "Topic Finder" (Right side - Purple/Red/Green Open Circle) at the right may help you develop a focus and find sources related directly to that focus.