Print Resources
Print resources have been pulled from the available on the rolling cart.
*If you find information you'd like to save, ask Mrs. Freeman or Mrs. Mattison to help you with copying so that other classes will have access to the print resources.
Print Resource List
Click on the "VIEW" button next to Evolution - McLaughlin.
*All of these books can be found on top the fiction shelf on the left side of the library labeled "Earth Science."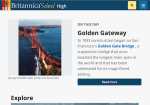 Britannica High School
Remember:
*Search Assist
*Sections available,
Images, and
Web's Best Sites
*Copy and Paste the inforamtion and citation (if necessary) into Google Docs.
Additional Digital Resources