This subject guide provides you with links to the research databases you are required to use, as well as the websites of some professional organizations and tip sheets for using the databases and integrating them with your Google Drive for organization.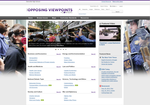 Video Tutorials for Opposing Viewpoints
The tutorials included on this webpage offer additional support for you as you navigate the Opposing Viewpoints database and save resources to your Google Drive.
Please do not hesitate to reach out to Mrs. Freeman if you need 1:1 assistance.
MLA 8 Format Tools
This is subject guide which will link you with Owl at Purdue for MLA 8, Zoterobib for creating citations from websites, a quick reference guide for in-text citations, and the Avon MLA 8 format packet.