Print Resources
*The REFERENCE section is near the copier and will have images of GLOBES on it!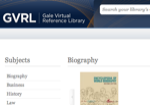 Gale Ebooks
*Search the entire Gale Virtual Reference Library since you may find informaiton in multiple books.
Online Subscription Encyclopedia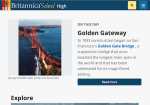 Britannica High School
*Author and Time Period
*Web's best sites *Citations must be sent to the Google Drive separately from document.
Databases
*Be sure to use the right side bars to maximize searches.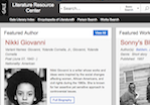 Literature Resource Center
Authors and their works are found here and in Bloom's (next). There are often connections to historical context in the Biographies, Work Overviews, Critical Essays, etc.

Citation Creation Resources
TIPS
*Remember to search: Author, works, time period, societal issues you may be focusing on, etc. and that authors sometimes use "pen names".

*ORGANIZE as you go in your Google Drive.

In an ADVANCED SEARCH:
and = reduces findings
or = increases findings
* = truncation increases results (hebrew* will bring up hebrews, hebrewism...)

*eBooks, Britannica, and all Databases have the MLA 8 citation ready for you!

*Finally - If you are struggling to find information, see Mrs. Freeman for guidance and support!